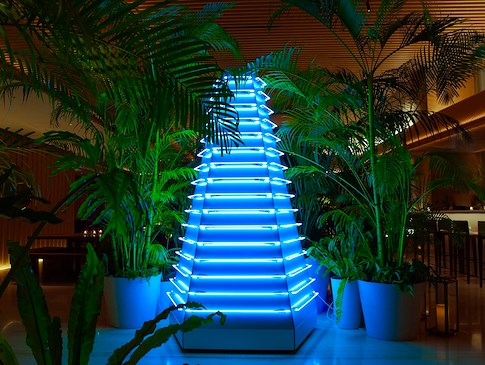 TREE OF LIGHT
On display in the dramatic 31st Floor Lobby Bar from 8 November until 25 December, The Neon Christmas Tree was designed exclusively for The Tokyo EDITION, Toranomon by Gokou Neon Studio, led by an emerging neon artist Waku.
Inspiration
One suggests that the tradition of decorating a Christmas tree began with Martin Luther, when he was so moved by how beautifully the stars shone at night in the forest and tried to recreate them by attaching lighted candles to an evergreen tree. I had the same inspiration when I first decided to create with neon tubes. I was mesmerized by the lights shining in the city and skyline lit up across from skyscrapers and highways, and I am reflecting and recreating the excitement I felt through this Christmas tree. We hope that this Christmas tree brightened by neon lights will enliven the lobby and welcome all guests at The Tokyo EDITION, Toranomon.
Gokou Neon Studio
In 2022, a trio led by artist Waku renovated an abandoned factory in Edogawa-ku, Tokyo and established "Gokou Neon Studio. They work in an extensive activities from neon production to fixture production, and art direction.