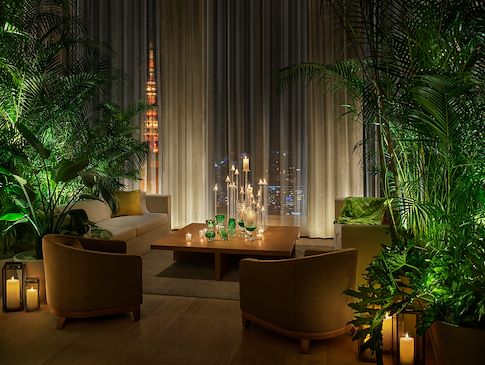 Lobby Bar Social Hour
Lobby Bar at The Tokyo EDITION, Toranomon introduces social hour at the twilight hour to be enjoyed while witnessing the brilliant sunset, soak in the backdrop of unsurpassed, iconic Tokyo Tower view. Guests can indulge in exquisitely crafted savories with a bottle of Ruinart Blanc de Blancs.
24,300 for 2 Pax
17:00~
Plan includes a bottle of Ruinart Blanc de Blancs, and guests may select 3 light bites from the list:
AVOCADO PISTACHIO DIP Tortilla Chips
COLD CUT MEAT & MARINATED OLIVES
SELECTED CHEESES Dried Fruits Bread, Cracker, Apple Chutney
HAMACHI TARTARE Pickled Daikon, Fennel, Yuzu Lemon Dressing
DAILY SEASONAL FRUITS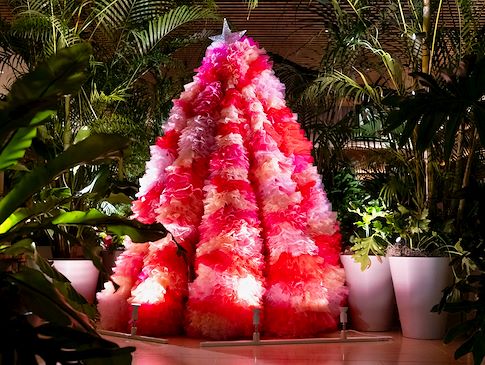 TOMO KOIZUMI - A Wearable "Ruffle Christmas Tree Dress"
The Tokyo EDITION, Toranomon is pleased to announce the launch of the "Ruffle Christmas Tree Dress" in collaboration with costume designer TOMO KOIZUMI.

Tree: November 12 - December 25, 2021
Dress: December 26, 2021 - January 6, 2022


On display in the dramatic 31st Floor Lobby Bar from 12th November 2021 until 6th January 2022, The Christmas Tree Dress was designed exclusively for The Tokyo EDITION, Toranomon by TOMO KOIZUMI, whose costume for singer MISIA during her national anthem performance at the Summer Tokyo Olympics Opening Ceremony was an international sensation. The work of art titled "Ruffle Christmas Tree Dress" will be displayed as a vibrant Christmas tree to bring festive cheer from 12th November to 25th December 2021 and will be transformed into an eye-catching ruffled dress from December 26 to January 6, 2022, before being returned to Tomo's archives.
TOMO KOIZUMI commented, "I designed this Christmas Tree Dress simply as a gorgeous and beautiful object, hoping to warm the hearts of those who see it. I feel that in Japan, there are still few people who consider fashion as art. I would be happy if many people could see the Christmas Tree as a wearable work of art that can last a lifetime, rather than just a one-use object".