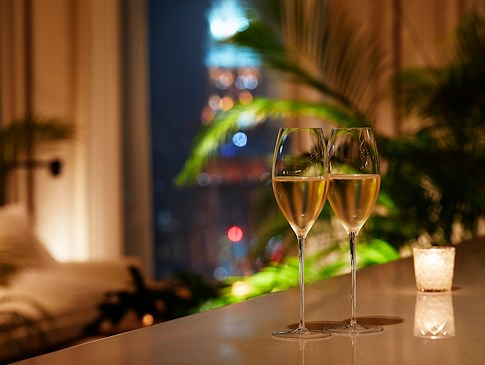 NEW YEAR'S EVE COUNTDOWN
Ring in the new year in style at the photogenic Lobby Bar. Enjoy live DJ entertainment, taste the specially curated canapes and sip on Ruinart Blanc de Blancs. Pump up for arguably the biggest night of the year whilst gazing the beautifully illuminated view of Tokyo skyline.
A Bottle of Ruinart Blanc de Blancs
Chef's canapé selection for two people
JPY 33,000
31 December 2022
21:30 -
DJ "Mariana with Acoustic Set"
About Mariana:
Born in Dourados, Mato Grosso do Sul, Mariana started her music career at the age of 8. In São Paulo, she studied popular singing and guitar for 04 years at the Souza Lima & Berklee music conservatory. With the softness of her charming and captivating voice, Mariana soon expanded her musical activities to other states in Brazil, then her career took off with presentations in Lisbon, London and Tokyo. Mariana has performed at the most prestigious music venues and festivals in and out of Brazil such as Blue Note (São Paulo), Billboard (Tokyo) among others. Mariana currently lives in Tokyo and is preparing to record her first EP.